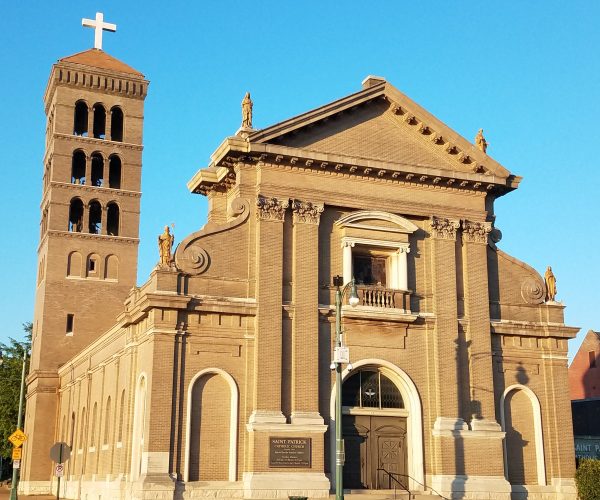 Welcome to the St. Patrick Catholic Church website. St. Patrick's has been proclaiming the Gospel of Jesus Christ in the heart of downtown Memphis for over 150 years. Whether you are an active parishioner or just visiting, we hope that you will find our parish information helpful in your faith journey. We are committed to living and proclaiming the Good News of Jesus Christ and the beauty of our Catholic faith. We are also blessed to have as our patron saint someone who calls us to continuing conversion and to reach out to others in charity and compassion. We invite you to join us in person at one of our Sunday Masses.
May God Bless You,
Monsignor Val Handwerker
St. Patrick Catholic Church annual celebration of
Mary of Magdala: Apostle to the Apostles
Saturday, July 20, 2019
9:30 a.m. – 1:00 p.m.
St. Patrick Outreach Center
All are invited to join us
Potluck Salad Lunch – please bring a cold dish to share
The Memphis Chapter of the
American Guild of Organists
2019
SUMMER RECITAL SERIES
15TH Anniversary Gala Recital
Saint Patrick Catholic Church
277 South Fourth Street
Saturday, August 10
7:00 p.m.
The St. Patrick Pipe Organ, a Pilcher mechanical instrument from 1904 is of the highest American quality.  It remains completely original and is an extremely beautiful jewel to be cherished.
Below is an op-ed article by Father Val which appeared in the Sunday, June 9th, issue of "The Daily Memphian."         
Below is a presentation given by Father Val at the Calvary Lenten Series on March 29, 2019.
Below is a statement concerning the sexual abuse crisis from Most Reverend Joseph E. Kurtz, D.D., Archbishop of Louisville and Apostolic Administrator for the Diocese of Memphis on November 16, 2018.
Below is an article which Father Val submitted to The Commercial Appeal.  It was printed in the newspaper early in the week of August 20th, 2018.
Food & Fellowship – Please Join Us!
All are invited to join us every Sunday morning after 8:30 am and 11:00 am Masses in the St. Patrick Outreach Center for coffee, juice and other tasty treats while joining in fellowship. St. Patrick Center is located behind the church – exit the church using the ramp to right of the Altar and then follow the walkway around the courtyard.
Thank you for being with us!
 CALENDAR  July  21 – July 28 
Sunday, July 21
9:45am, Sunday by Sunday, Braganza Room
12:30pm, St. Vincent de Paul, Braganza Room
1:00pm, Soup on Sunday, Center
 Tuesday, July 23
Wednesday, July 24
Thursday,  July 25
Friday, July 26
Saturday, July 27
9:00 – 10:00am, Ministry to the Sick Prayer Service, Chapel
9:00 – 10:30am, Follow up Centering Prayer Session, Braganza Room
Sunday, July 28
9:45am, Sunday by Sunday, Braganza Room
1:00pm, More Than a Meal, Center