"You were buried with him in baptism, in which you are also raised with him through faith in the power of God, who raised him from the dead." (Col 2:12)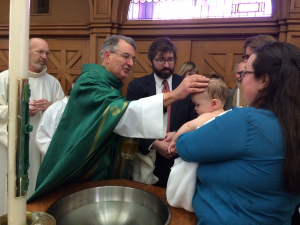 Parents wishing to have a child (6 years and under) baptized, must be registered active parishioners for a minimum of 3 months prior to the date of baptism. All participants are required to attend a Baptism Preparation Class prior to setting a date.
For godparents/sponsors who are members of a parish other than St. Patrick Catholic Church, a letter from their pastor confirming their eligibility to be a godparent/sponsor must be presented.
Questions? Or would you like to schedule a child's baptism, please call the church office for more information at (901) 527-2542.