Our Mission: Saint Patrick Community Outreach Center is a non-profit outreach ministry of St. Patrick Catholic Church.  The dignity of each individual is affirmed by sharing God's love with those we serve. We do this by feeding the hungry on Sundays, and collaborating with residents and other institutions to help build a just community.
Great News!
 St. Patrick Community Outreach, Inc. is thrilled to announce a new title sponsor for our charity 5K run/ walk: Orion Federal Credit Union at 7 o'clock on Saturday evening, June 9, 2018.  Mark your calendar for family friendly fun on Saturday, June 9! The large parking lot at 4th Street and Dr. Martin Luther King, Ave. is reserved for our post race party where the band "Marcella and Her Lovers" will headline our entertainment.
St. Patrick Parishioners, Friends and Supporters: All Hands on Deck at St. Patrick's on Saturday, Evening, June 9th! We need volunteers for our large Kid's Zone, food servers, parking attendants, beer servers, Pre-Race Set Up and Post-Race Clean Up!
You can register to volunteer on the sign-up sheets via our website by clicking here. Thank you for saving the date and your service on June 9, 2018!
IF YOU CAN HELP ORGANIZE this great parish event, please come to:
WMC TV
1960 Union Avenue
Memphis, TN 38104
for a one hours Leaders Meeting to plan for the Orion 5K. Park in front of the TV station and you'll be welcomed inside at 7 0'clock for a session on palling our post-race party on Saturday, June 9.
We need more leaders! Please RSVP by emailing: jbirch@wmctv.com / phone: (901) 726-0419. Also, please take the ORION 5K promotional cards on the tables located in the rear of St. Patrick Church to your home, your place of employment, your gym or anywhere you know runner will connect with them.
Please send your gift of any size to our 501-c3 Non Profit:
St. Patrick Community Outreach, Inc.
297 S. 4th Street
Memphis, TN 38126
Gifts of $250 and up will receive special recognition on race day, Saturday, June 9!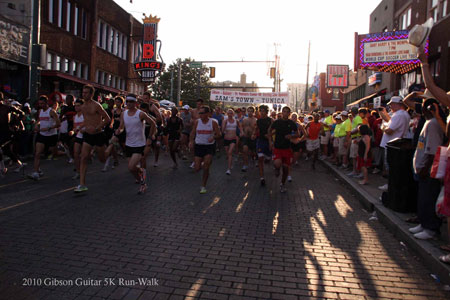 Press Release
Inaugural Orion 5K Arises on Memphis Running Horizon
MEMPHIS – Orion Federal Credit Union picks up the baton and carries forward a great Memphis running tradition that has filled Downtown streets for 21 consecutive years. Runners and walkers will be invited to line up at 7 o'clock on Saturday evening, June 9th for the inaugural Orion 5K benefitting St. Patrick Community Outreach, Inc. The 3.1 mile course will take runners through historic Beale Street and alongside the Mississippi River with a finish line near FedEx Forum and St. Patrick Church. That's where the incredible band, Marcella and Her Lovers, will welcome participants to a lively, family friendly post-race celebration featuring delicious food, cold beer and other refreshments. "The Orion 5K race has a rich tradition in the Memphis community.  We invite all from the Mid-South to participate in this fun, family friendly event that shows off our city from Beale Street, to the river, and down South Main.  It's a unique race that celebrates our city's culture and hospitality," stated Daniel Weickenand, Orion CEO.
Formerly known as the Gibson Guitar 5K, the all new Orion 5K carries forward the tradition of benefitting St. Patrick Community Outreach, Inc., a 501©3 nonprofit that carries fresh fruit, vegetables and other healthy foods to parts of our community that have no easy access to high quality nutrition at cost. It runs the Green Machine Mobile Food Market, a MATA city bus renovated to serve as a rolling farmer's market. In addition, St. Patrick's Community Outreach, Inc. feeds the hungry each Sunday at its headquarters located at Pontotoc Ave. and 4th Street near FedEx Forum. The agency operates the city's largest emergency food pantry in Memphis' most economically challenged zip code, 38126.  In years past, this charity 5K has funded an after school tutoring program, a computer lab, sports teams, music lessons as well as field trips for children from 38126, the zip code immediately south of FedEx Forum.
Gibson Foundation, charitable arm of Gibson Brands, Inc., will donate two factory fresh guitars for a charity auction at the 2018 Orion 5K.
Runners will line up near FedEx Forum and St. Patrick Church at Dr. Martin Luther King. Ave and 4th Street and run westbound through the "Boulevard of the Blues" to Riverside Drive for a spectacular half mile alongside the Mighty Mississippi River before running back through the south end of Downtown to the finish line where the post-race party will await. A Kid's Fun Zone will provide entertainment for the young among us while those of age enjoy Miller Lite from our friends at A.S. Barbaro, delectable delights from some of favorite Memphis' food vendors.
The Inaugural Orion 5K benefitting St. Patrick Community Outreach, Inc. is presented by Orion Federal Credit Union. WMC Action News 5 returns as media sponsor for this charity 5K race for the 22nd consecutive year.
Additional funding comes from the Annual Saint Patrick Golf Tournament, grants & donations, but gifts of any size are needed and welcomed to our 501-C3 Non-Profit, please mail to:
St. Patrick Community Outreach, Inc.
297 S. 4th Street
Memphis, TN 38126
For more information on how you would like to either help or donate,