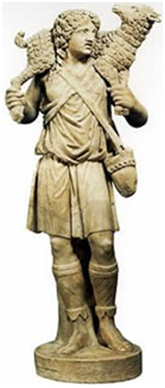 Catechesis of the Good Shepherd
The Catechesis of the Good Shepherd is an approach to the religious formation of children that is based on the conviction that God and the Child are in relationship. Our role as adults is to protect and nurture this bond. In the Catechesis we present age appropriate themes from the Bible and our liturgy with manipulative materials the children use to internalize and ponder the great mysteries of our faith. We try to put the child in touch with those "sources" through which God reveals and communicates Himself in living form; namely, the Bible and Liturgy, in balanced proportion.
It is the child's own inner guide and teacher, the Holy Spirit, which directs the mind and heart. The role of the adult, or the catechist, in the atrium is secondary.  The importance of the catechist is to place materials within reach and share scripture that fills a particular longing at each stage in a child's spiritual life. Each atrium is specially designed with child sized furniture including a prayer table for gathering, a model altar, as well as materials to deepen their familiarity with more parables and the Mass itself. After being presented with new material in a small group, children are free to choose work which particularly speaks to them to foster the growth of their own relationships with God. Each level of the child's work explores the fundamental theme of covenant, God's call and our response, as reflected in the Bible and as lived in liturgy.