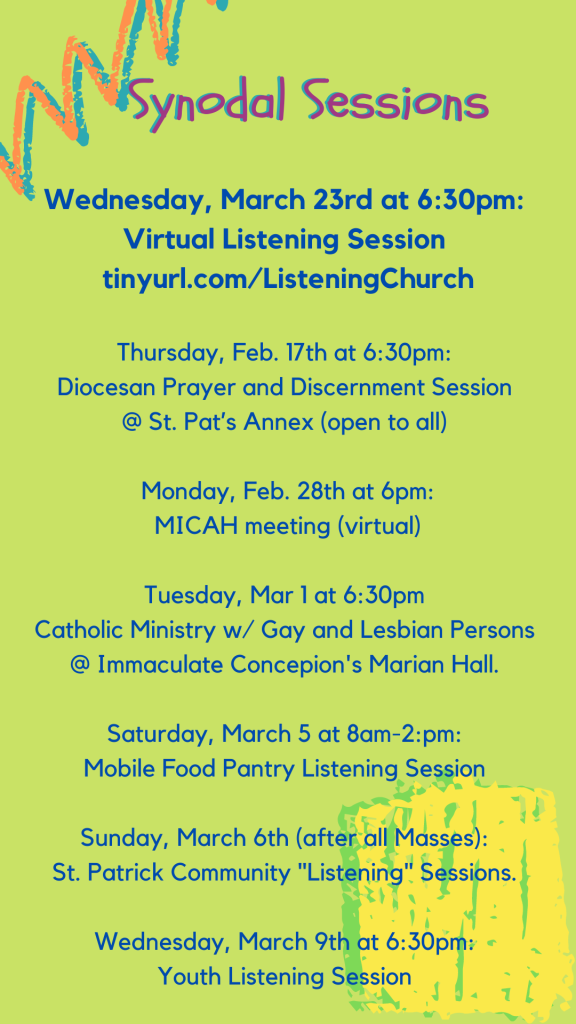 Our Holy Father Pope Francis has invited the Catholic Church to embark on a journey together. Through listening and discernment rooted in the Holy Spirit, the entire people of God will be called to contribute to a process by which the Church deepens in understanding of Her mission and looks toward the future. A Synod, which is the process by which the Church will begin this important work is not just a convening of Bishops reflecting on a particular topic and advising the Pope. A Synod is a journey of discernment, in which the people of God are called to pray and reflect upon the Holy Spirit's will for the Church. Through our listening and our sharing, we will seek to understand what the Holy Spirit's will is for the topic being discussed – and thus, for the Church. For the 2023 Ordinary Synod of Bishops, that topic is synodality. Simply put, synodality is discerning how the Spirit is moving through and with the Body of Christ, so that we may continue to fulfill our mission to evangelize in the world.
So what does that mean for us?
We here at St. Patrick's believe in an "Acts" Church— one that moves by the Holy Spirit present in the people. We cannot be afraid of being humbled by our failures or inspired by what we can be as the People of God.
With that in mind, we are planning multiple listening sessions in order to reach as many people as possible to hear the challenges, hopes, and dreams concerning our world and the Catholic Church globally.