Feeding the Hungry of the MidSouth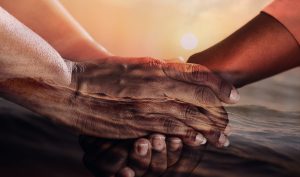 Every Sunday, at 1:00 pm, hungry people come to St. Patrick's Center for a meal. On most Sundays, soup and corn bread or a sandwich and a drink are served to those who come to the kitchen door on Pontotoc Avenue.
On the second Sunday of each month, members of the parish bring crock pots with soup or chili. These days through the year have become known as "Crock Pot Sundays".
Soup-On-Sunday provides a hot coup of soup, home made cornbread, and a beverage to the hungry and homeless each Sunday, except the last Sunday of the month.
Every fourth Sunday the Center hosts More than a Meal for over 200 neighborhood guests, a full meal is served inside the St. Patrick Center. Between the hours of 1:00 to 2:00 pm, over 160 men, women and children from the Vance Avenue Neighborhood are invited to sit down to a hot meal consisting of a meat, two vegetables, bread, beverage, and desert. Volunteers from Saint Patrick and other community volunteers from the Memphis Metropolitan area cook, decorate and serve a delicious meal. These helpers come from other church communities, such as Redeemer Presbyterian Church, or from other Catholic churches, especially from the Confirmation classes of the latter.
Guests are invited to write their prayer intentions which are then read for group prayer. An important aspect of these meals is the opportunity for guests to recommend their needs and concerns to the parish community for its prayers. Volunteers are always welcome to assist in serving meals at St. Patrick's, especially on fourth Sundays.
Food Pantry
The St. Patrick Center partners with Metropolitan Inter-Faith Association and provides healthy food of packaged, fresh produce and meats for families who are prescreened and referred by MIFA.
Volunteers staff the pantry four days a week, Tuesday through Friday, from 1:00 pm until 3:00 pm.  Clients receiving a voucher from MIFA receive one or two sacks of groceries depending on family size.
Common Ground Community Garden
The Center is providing the land and oversight for the garden located at 276 S. Lauderdale Street at Doctor M.L.K., Jr. Avenue.  A community steering committee comprised of neighborhood residents, volunteers from Saint Patrick and other area churches and institutions plan and govern its use.
The "Green Machine" Mobile Food Market
Our Green Machine was previously a city of Memphis Mata bus that has been transformed into our mobile food bus. It brings fresh fruits, vegetable and other staples to the food deserts of Memphis.