To donate to the Global Health Ministry make a check out to St. Patrick Catholic Church and write "Global Health Ministry" in the memo line.
Global Health Ministry
St. Patrick's parishioners have joined forces with Catholic sisters in Tanzania to fund a medical clinic. This clinic will provide maternity care and ongoing care for young mothers and their children. The clinic will serve about 900 people a year and enable doctors to not only provide care in the village of Kifuru but also in the surrounding rural areas that currently lack care.
So far, we have raised $15,000 and have finished the construction of the clinic as well as equipping it with the necessary medical supplies. We are hoping to raise another $30,000 for a four-wheel-drive vehicle ($20,000) for the sisters to transport patients from rural villages to the clinic over dirt roads that are often difficult to traverse when it rains, as well as a water filtration system, as currently, people have to walk up to 13 kilometers to access water!
Ways to get involved 1) Prayer
2) Donations – https://gofund.me/dea8645e
3) Volunteer – contact Stephen Juma sojuma55@gmail.com or 408-916-6451
Read the latest updates about the GHM!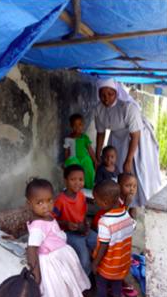 We (Stephen and Monica Juma & the Parish Council) are really excited to announce a new Global Health Ministry at St. Patrick! We have a dear friend, Sr. Dr. Sarah Kahumbya, MD who is a Catholic Sister and physician in Tanzania, East Africa. We were introduced to her by a Jesuit priest friend who we met in college at Loyola Chicago with the hopes that we could collaborate with her and her community of sisters – as they have started providing medical services to a nearby village, Kifuru, about 30 miles (2-hour drive) from where they live in Dar es Salaam (the capital of Tanzania).
Sr. Sarah and her community started this initiative as part of their missionary endeavors to reach the most vulnerable in their midst. They identified Kifuru as a community lacking basic social services, particularly healthcare. The nearest hospital is a 2-hour drive to the capital, Dar es Salaam. In response, Sr. Sarah and her community started an outreach to provide health care to women and children with a focus on preventative health. Initially they travelled there monthly but due to increased demand they are currently going twice a month. There was an overwhelming response from the Kifuru community and the village elders donated land to the sisters in the hopes of one day building a full-time clinic or hospital.
We feel called to serve both locally and globally, so in response to God's calling to serve those in most need, this seems like an exciting opportunity to collaborate with Sr. Sarah and the community of Kifuru. Stephen and I have been discussing and praying how we might be able to best partner with their community. Fr. Val put us in contact with Debra Bartelli, DrPH, Professor of Public Health at University of Memphis, who started the Haiti ministry at IC. She shared how they started small – with simple projects that could do tremendous good. For example, to target waterborne disease, they purchase medication to treat parasites for the community there. To treat several thousand individuals this is only several hundred dollars a year. This helps with individuals' nutrition translating into long-term cognitive benefits for children. A larger project they conducted was to build a well and provide a water filtration system for the community to have clean water. Sr. Sarah and her community have found that the most commonly encountered illnesses in Kifuru are preventable – the top being gastrointestinal disease due to lack of access to clean water. Debra also shared other creative projects they have done – for example, local artists have made greeting cards which they sell on Etsy and at a local bookstore to raise funds. They also have done coin drives at IC's school and raised several thousand dollars that way. Hence, she gave us a lot of ideas for ways we might be able to help. She recommended looking into starting a global health ministry at St. Patrick as many of the individuals who were involved in the Haiti Ministry at IC are now at St. Patrick, and said she can help advise and be a source of support.
We discussed this with Fr. Val and he asked us to present this idea before the Parish Council and we are so excited that they voted yes at their last meeting!
We envision collaborating with Sr. Sarah and the Kifuru community to identify needs in which we can partner to meet. Eventually, we'd love to organize a group trip to Tanzania, and from my (Monica) experience going to Uganda and Haiti, I always get so much more than I can give. Similarly, we believe this collaboration would really enrichen St. Patrick, as an opportunity to learn from and share with the community in Tanzania.
For details – please contact us at mjuma@uthsc.edu or 408-802-8376.

If you are interested in donating to the St. Patrick Global Health Ministry— please make your check out to St. Patrick Catholic Church with "Global Health Ministry" on the memo line.
Monica and Stephen Juma