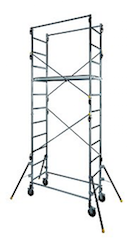 Our heartfelt gratitude for the work being done to restore the columns in the church to their original beauty! Several weeks ago, parishioner Jen Sneed, after noticing the damage at the base of the columns of the church, volunteered to repair and repaint them. That offering and subsequent plea for help returned the issue to the forefront for Terry Woodard, who had identified the same project a few years back. However, when they started working, they realized that before they spent all that time on the BASE of the columns, they should probably CLEAN the entire columns, which had never been done!
As it happens when we begin ONE project, it turns into a little more once we dive in (ask any homeowner about that!). So, Phase 1 is the is the columns in the nave area of the church (where the pews are), and Phase 2 will be the columns in the Sanctuary. We will need to set up scaffolding to reach the upper portions of the columns. Terry and her son, Ryan, are doing the bulk of the cleaning work, putting in many long hours. The scaffolding should not interfere with any seating.
Thank you for your understanding and patience.